As a new school year approaches and fall sports seasons near, it is important for parents to consider mouth guards for their children.  Mouthguards benefit children (and adult) participants of any sport where there is a chance of impact with other players, or equipment, or the possibility of serious injury. Currently, the American Dental Association (ADA) and the International Academy of Sports Dentistry (IASD) recommend mouth guards for the following sports: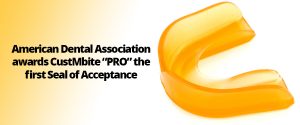 | | | |
| --- | --- | --- |
| Football | Basketball | Rugby |
| Soccer | Volleyball | Equestrian |
| Martial Arts | Softball/Baseball | Track and Field |
| Ice Hockey | Field Hockey | Inline Skating |
| Lacrosse | Weight Lifting | Racquetball |
| Boxing | Gymnastics | Water Polo |
There have been two main types of mouthguards available for athletes, until now.
Off the shelf guards are fairly inexpensive, but have limited use. Drawbacks to this type include a less than ideal/secure fit, they can be chewed through causing ineffective protection, and the inability to fit them for use with braces.
Custom fit guards are sent out to a lab for fabrication.  While best fitting, stronger and more effective in guarding against impact, they are more expensive.  Another drawback is they cannot be adjusted as the mouth changes, so new ones have to be made as the mouth grows, braces are placed or removed, etc.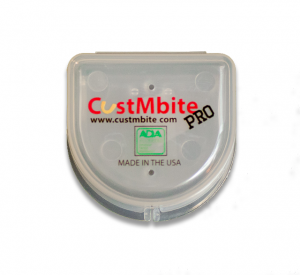 Recently, a third type of mouth guard, CustMbite "PRO", has been introduced which is strong, durable and inexpensive. It was designed by a dentist and it is available through our office.
The CustMbite "PRO" Mouthguard offers the latest innovation in an athletic mouthguard. Made from an advanced polymer, the CustMbite "PRO" provides increased protection and shock absorption and it gives a custom-fit at an off-the-shelf price, ready to use in less than 2 minutes.
Some CustMbite "PRO" mouthguard benefits
Precision fit with no speech or breathing impairment which stays in the mouth more securely
Increased protection and shock absorption versus a custom made laminated mouth guard
Provides great custom fit over fixed orthodontic appliances or braces
Cannot chew through the mouthguard
Cool to the touch when fitting in the mouth
Ability to refit as needed
Latex, BP, PVC, and Phthalate free
Will NOT absorb saliva or bacteria, is dishwasher safe and can be microwaved
Available in a wide range of colors with or without straps to match athletic teams
In addition, CustMbite "PRO" soon will have new technology available to change colors if an athlete is overheating, thus guarding against heat-related health issues in hot, humid conditions.
In recognition of its outstanding performance, the American Dental Association has awarded the CustMbite "PRO" its first Seal of Acceptance for a sports mouthguard.
I believe strongly in the importance of athletic mouthguards to protect the mouths of children and adults who participate in active sports where contact could damage your mouth.  Each type has its place and must be evaluated based on the patient and its use. Please call us, or ask us at your next appointment, about your best options for a properly fitted mouthguard.
Yours in good oral health
Dr. Poz
CustMbite "PRO" is the official supplier for:
–    East West Shrine Football Game January 2018
–    The U.S. Women's World Cup Lacrosse Team
–    The Men's U.S. Lacrosse under 19 National Team
–    The U.S. Maccabiah Rugby Team
CustMbite "PRO" is used by these teams:

–    Anaheim Ducks — National Hockey League
–    University of Notre Dame
–    Rutgers University
–    Penn State University
–    University of Illinois Football
–    Yale University
–    University of Connecticut
–    Florida International University
–    University of Oregon
–    Clemson University
–    James Madison University
–    University of Kansas
–    University of New Hampshire
–    Colorado State University
–    University of Kentucky — Men's Basketball
–    Baylor University — Basketball
–    St. John's University
–    Harvard University
–    Cornell University
–    John Carroll University