Younger Patients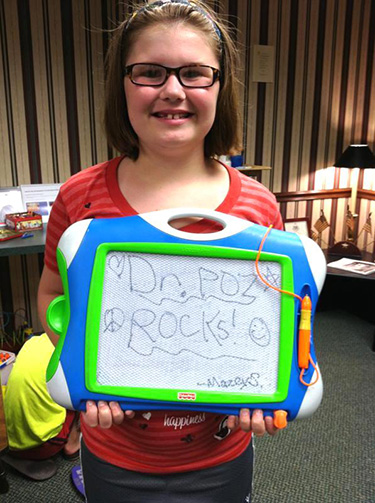 We love kids. And they love coming here.
We offer kid-friendly activities in the reception area.
Parents appreciate that we provide attentive pediatric dental care and treatment from our youngest patients through their teen years.
We created our special Happy Visits™ so the very young can come in for a "trial" appointment. They'll meet Mister Thirsty and get used to people wearing gloves and masks while sitting in the chair going up and down. Whether alone or on mom or dad's lap the ride is always fun!
We are particularly sensitive to young patients who might get anxious visiting the dentist. Marcia is especially good with calming children, and if the situation warrants – and only with a parent's consent – she will offer to use her hypnosis training to soothe a young patient and lessen their anxiety.