The Dr. Poz Mission
We welcome patients to be part of our family. We are passionate about helping our patients achieve the best oral health possible; by building ongoing relationships and mutual trust, we enhance the well-being of the whole person.
Our Core Values:
Commitment to Our Patients

High Quality Dental Care

Comfortable Setting

Highly Trained Professional and Dedicated Staff

Family Office Where Everyone in the Surrounding Toledo OH Area is Welcome

State-of-the-Art Equipment and Practices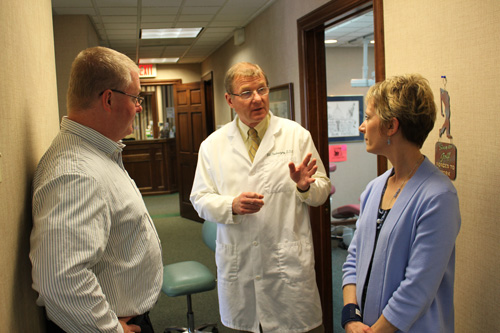 Our mission is to treat our patients the way we would want to be treated. Therefore, we provide exceptional dental care adhering to these core principles. We offer affordability and value in a comfortable and relaxing office. In addition, we recognize there are sensitive patients who are uncomfortable in a dental chair. We go out of our way to ensure that their experience is as stress free as possible. Our patients' unique individual needs are of the utmost importance to us.
We embrace state-of-the-art technology combined with the latest advances in treatment in order to detect, prevent and mitigate issues. Our staff provides thoughtful, prudent care. By doing so, we help make and maintain amazing smiles while providing genuine value to our patients. We strive to use the least invasive procedures necessary to treat our patients effectively while reducing risks and complications. Therefore, we offer our patients the highest quality dental care available at affordable rates.
We strive to balance the need to be professional with the need to be human, educated and skilled, yet empathetic and kind. Healing involves skill and technological knowhow, but also compassion and heart. Offering our patients the highest standards of dental care, we will continue to advance our expertise by staying abreast in the industry. Our knowledge of dentistry and general health care is paramount to our mission of providing an exceptional service. As a family practice, we maintain an atmosphere of positivity and joy in the workplace, which fosters an atmosphere of trust and tranquility.
Helping our patients achieve optimal dental health is our mission. With such a goal, we pledge to provide the highest standard of service in a warm, compassionate atmosphere. We, therefore, pledge and guarantee that the objective of this mission statement will be upheld with conscientious observance to our patients unique needs. We will always provide the best service possible because our patients deserve nothing less.